What is a Breech Baby?
About 4% of babies are in the breech position. Babies in the womb sit head up until around 30 weeks of pregnancy, then they are supposed to turn into a head down position in preparation for delivery. A breech baby is one who, if he were born right now, would come out butt or feet first.
What are the Different Types of Breech Presentations?
Frank Breech Baby
Baby's legs are straight and his feet are up by his head. Frank breech is the most common with the babies bottom being closest to the birth canal and considered the safest birth position for vaginal breech delivery. 
Complete Breech Baby
Baby's legs are folded and the feet are close to his bottom.  
A Footling Breech Baby
Baby's foot or feet are below the bottom.  
My Baby is Breech What Should I Do Now?
What to do depends on your due date and how far along you are. One factor is how you feel about cesarean delivery. If you prefer to give birth via cesarean section, there's nothing you need to do. Just be sure you understand the risks of cesarean birth (for you, this baby, and any future babies).
If you'd like to avoid a c section, there are two things to do to try to get baby in a head down position. You can do one or both (recommended).
Find a provider who does vaginal breech births.

Consider the tips below.
If You Have a Breech Baby Before 28 Weeks
That's normal. Babies are head up in utero until around 30 weeks. You can practice good sitting posture and keep your body balanced to help baby make his/her rotation when it's time. Be sure to check out Getting Your Baby In The Best Position For Birth .
If You Have a Breech Baby Between 28 weeks – 31 weeks
This is the time during which most babies turn head-down. If your baby is still head up, it's still normal. But it could also mean your baby is having a hard time flipping. You can change the way you sit and rest, consider a chiropractor who is Webster certified, take a few extra walks, and up your relaxation.
If You Have a Breech Baby Between 32 weeks – 35 weeks
Most babies have gone head down by now. If you find out your baby is breech at 34 weeks, you are lucky because you have some time to work to flip him/her. All the things we do to help babies turn work better before 36 or 37 weeks. If you're up for it, try as many of the ways to turn a breech as you can and look for a doctor or midwife who delivers breech babies. You may have to travel.
If You Have a Breech Baby at 36 weeks – 38 weeks
In mainstream maternity care, the provider doesn't check for breech position until about 36 weeks. At this point, you are "breech at term," meaning the baby is full term and clinically old enough to be born and still in a breech position. You can work to turn the baby (and they do turn this late!), but you also want to begin looking at your birth options with a breech baby.
If You Have a Breech Baby Between 39 weeks – 40 weeks
Very few babies will turn head down after 38 weeks, though some babies even turn in labor. Try an external cephalic version ECV—if it makes you nervous, ask around for a provider who has a good success rate with them and remember that they are far less risky than cesarean. Look at the other turning techniques and see what feels right.
Spend the majority of your energy on planning the kind of breech birth you want. If it's going to be cesarean, you can still have a beautiful birth. Ask (maybe demand—it's your baby) that you hold your baby immediately. Look into other family-centered or 'natural' cesarean practices.
If you're planning a vaginal breech birth, you're lucky to have found someone to attend you. Be extra nice to them—we need more providers to bring back vaginal delivery for breech birth. Ask some questions to be sure you have a provider you trust.
Why is My Baby Breech?
No one knows. The best guess we have at this point is that many babies are breech because of imbalance in the maternal environment.  Maybe your uterus is torqued or kind of squished and baby is more comfortable head up. This may be from stress or sitting in couches or holding a toddler on one hip. Many things can cause imbalance.
Here are Some Other Possible Reasons Why Babies are Breech:
Your first baby was breech

You are of advanced maternal age

The amniotic fluid levels are off

The umbilical cord is short or tangled

Your baby's hips are immature

There's breech in your family tree

It's your first pregnancy

Congenital problems with the baby

The placenta is in an unusual location
How are Breech Babies Born?
Breech babies in the U.S. are almost all born by pre-labor cesarean. Vaginal, breech birth was offered in most places worldwide until a flawed study in 2001 gave doctors and insurance companies a reason to stop.
The study has since been debunked and more research has been published, but the damage was done. Performing universal cesareans for breech babies is now the norm.
Vaginal breech birth is coming back. Doctors, midwives and activists are organizing re-training for breech delivery skills and reminding the maternity world that you have a choice.
Your ability to find a confident breech birth supporter  is largely a geographic lottery. Some people travel cross-country for a vaginal breech birth.
Is Breech Birth Safe?
Breech birth (vaginal or cesarean) is higher risk than head-down birth, but breech babies are born safely every day.
There are increased risks of problems with delivery when the baby is in a breech presentation (feet or  bottom first). The baby is more likely to have trouble coming down the birth canal, the cord is more likely to sweep out, and breech babies are slower to perk up after birth.
Many other factors influence the safety of vaginal breech birth, but breech experts are confident that most breech babies should be vaginally birthed.
Can I Turn a Breech Baby to Head Down?
You can make the environment more conducive to turning, yes. There are quite a few tricks that moms and providers have developed over the years that can help a baby flip.
Things you can Try:
Use body mechanics to balance your pelvis with exercises, postural changes, and trips to the chiropractor. You will want to seek out a chiropractor that specializes in the Webster Technique.

Connect with your baby and encourage him/her to flip using music, light, gentle massage, and visualization.

Relax and release your tension, stay out of your head, and let all your pelvic tissues make way for the baby to move.

Get an external cephalic version (ECV), where the doctor lubes up your belly and uses her hands to push the baby around.  More than half of ECV attempts succeed, though sometimes baby will return to breech position. 

Take our Breech Baby Options Course to learn 17 techniques that may allow your baby to turn.
What are the Risks of External Cephalic Version? Is ECV Safe?
Yes. In Thinking Woman's Guide to a Better Birth, Henci Goer studied 3,700 women in twenty-six studies on ECV. There were only complications leading to cesarean in two cases.
It is considered very safe, but in many cases is done in a labor and delivery ward in case it puts you into labor or distresses the baby.
It may be a better choice than cesarean for you and the baby.
Consult with your Doctor, Midwife and Healthcare Provider.
Why Won't My Doctor Deliver a Breech Baby Naturally?
So few birth health care providers have the training or experience now. Hospitals and insurance carriers are also slow to offer vaginal breech births because the risks of pre-labor cesareans are more defined.
You can try to convince a doctor or midwife who has attended vaginal breech birth to catch your baby or ask for a referral to someone who does. There may not be anyone for many miles, but it's good that they know you want that option.
If your baby is breech be sure to check out this course!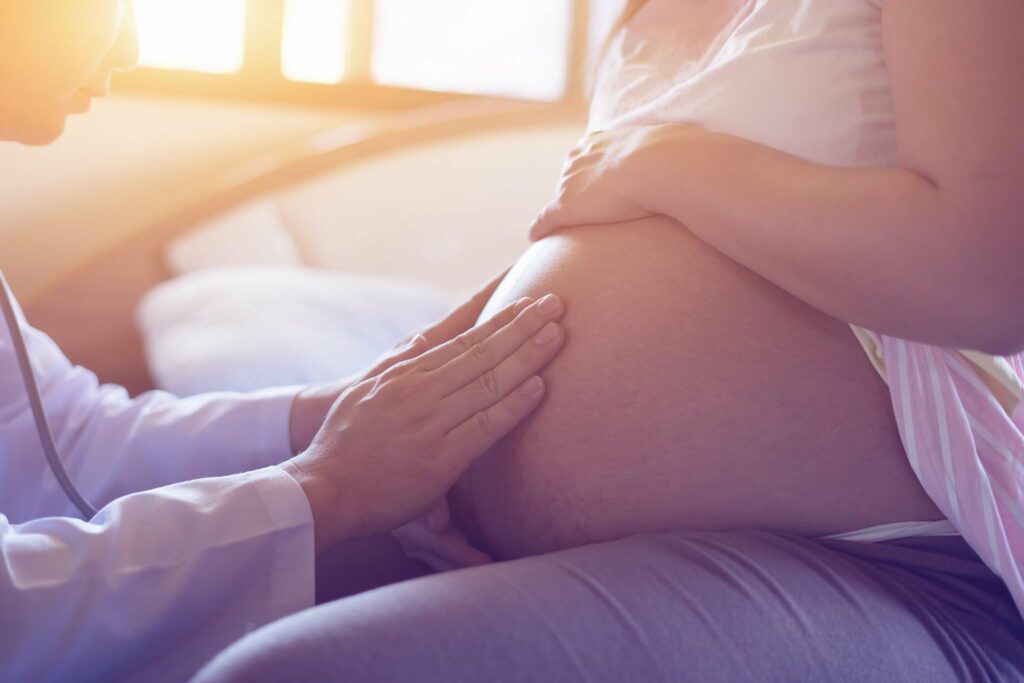 Breech Baby Options Course
Learn your options when your baby is breech.
Disclaimer: Pregnancy by Design's information is not a substitute for professional medical advice or treatment. Always ask your healthcare provider about any health concerns you may have. 
Cited Research
American College of Obstetricians and Gynecologists. If Your Baby is Breech.  Retrieved from https://www.acog.org/womens-health/faqs/if-your-baby-is-breech
Goer, H. (1999). The Thinking Woman's Guide to a Better Birth. New York City, NY: TarcherPerigee.
Free Video Guide on Creating Your Birth Plan!
The Complete Guide to Writing Your Birth Plan is a step by step walk-through of the most important aspects of creating an effective birth plan. The guide covers everything you need to know from interviewing a provider, comfort measures and additional  1-page birth  plan to talk over with your provider. Get free access today!