Why Exercise in Pregnancy?
You're familiar with the importance of exercise in daily life. The benefits of exercise in pregnancy are only compounded. Pregnant women should exercise.
You still have a body that wants to move and flow, but now you have the extra blood volume and physical stressors of a growing baby.
Exercise in pregnancy can prevent or help mitigate a number of pregnancy-related discomforts and ailments. It can also prepare you for the intensity of labor, help position the baby, and regulate your mood. Let's get moving with some help about exercise in pregnancy!
Benefits of Pregnancy Exercise
Appropriate, regular exercise in pregnancy helps you stay healthy, happy, and in tune with your body. Here are some of the benefits of moving for two:
Reduction in pregnancy-related pains, especially backache

Less constipation

Encourages gaining the right kind of

weight gain during pregnancy

Strengthens heart and blood vessels

Keeps the extra blood volume circulating

Better sleep

at night

More stable mood

Better posture (best for baby)

Increases pelvic floor strength

Decreased risk of preeclampsia

Easier postpartum recovery

Stronger muscles for labor

Decreased risk of

gestational diabetes

Decreased risk of cesarean delivery
Is it Safe to Workout While Pregnant?
If you have a normal, healthy pregnancy, it's considered safe to continue your pre-pregnancy exercise routine. If you haven't been exercising, you can start a moderate routine. Always check with your provider if you're not sure.
Physical activity does not increase your risk of miscarriage, preterm labor, or any other problem in normal pregnancies. Your workout may not be as high impact and strenuous but it is healthy to stay active during your pregnancy.  There are a few instances when your provider will suggest you avoid vigorous activity. You may need to stop exercising if you have some lung or heart diseases, placenta previa later in pregnancy, severe anemia, and/or cervical insufficiency.
Because your body is flooded with relaxin when you are pregnant, certain precautions should be taken to avoid injury. Relaxin helps your body make room for the growing baby, but it also makes your joints extra stretchy. Therefore, you are at greater risk for injuries like sprains when you do extreme stretching, high intensity workouts, or jerky muscle movements, especially twisting. It's best to take it easy and see how your body responds.
Hydration is extra important in pregnancy, so make sure to bring your water along!
What's a Safe Pregnancy Workout?
You should try to get your heart rate up most days during pregnancy. The CDC recommends 150 minutes of moderate intensity exercise per week in pregnancy. This means about 20 minutes a day (or 30 minutes, five days a week) of 'feeling it.'
If you haven't been used to exercise, start with just five minutes a day. Increase your exercise intensity and duration slowly and check in with your body.
Most all forms of exercise during pregnancy can be enjoyed safely. Some excellent choices are:
Walking

Swimming

Water aerobics

Belly dancing

Spin cycling

Prenatal Yoga and Pilates (with modifications)

Sports or activities that you already do regularly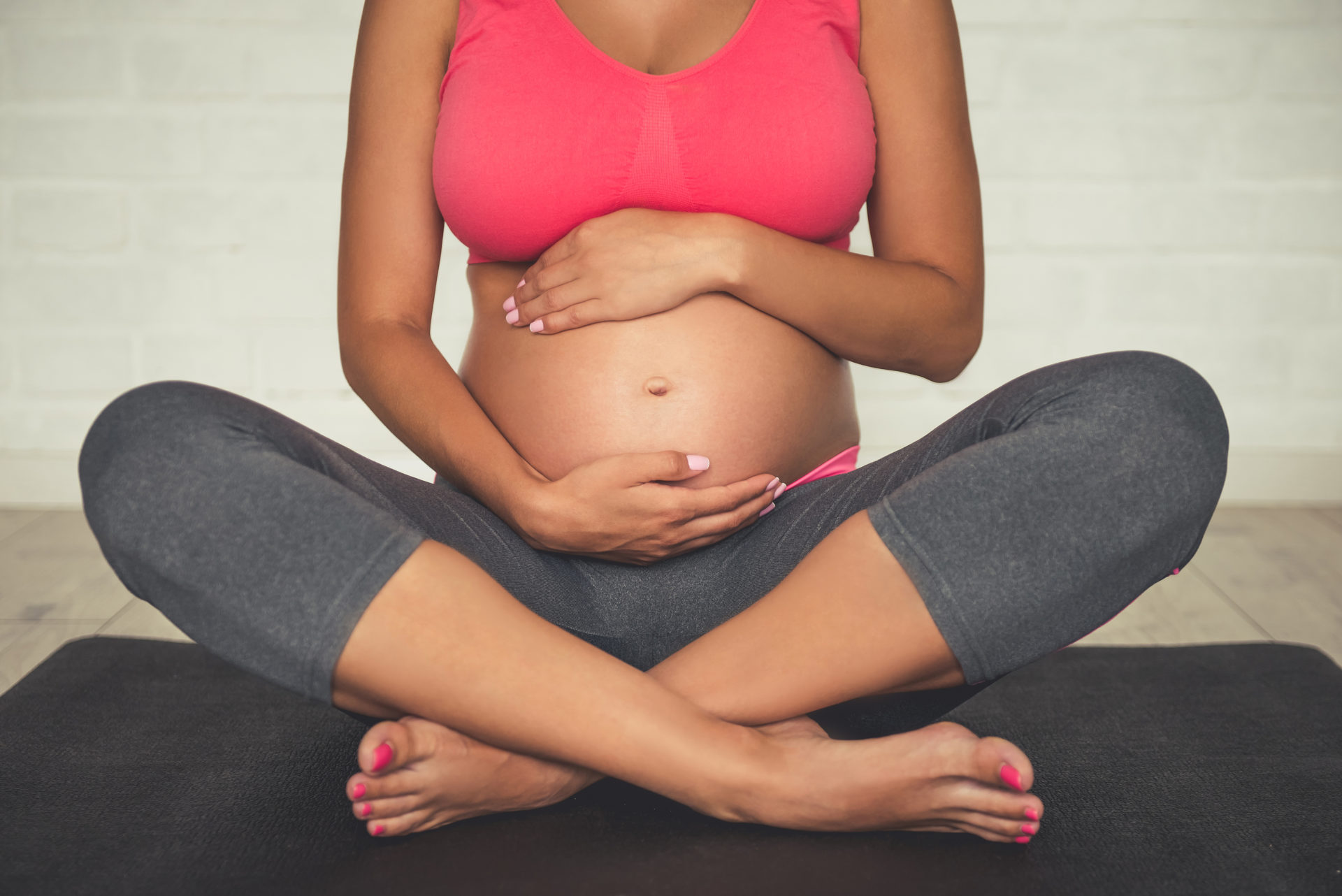 Pregnancy-Specific Exercises
In addition to a good aerobic workout, your body will appreciate a certain amount of pregnancy-specific stretching and balancing. Remember your extra weight and center of gravity is a little different now that you are carrying a baby and you can feel off balance. Be sure to take it slow as you get started  exercising.
Try the following:
Daily squats

Bird-dog

Pelvic rocking

Hip circles

Calf stretches

Hip openers
Exercises to Avoid When Pregnant
Some exercises are riskier in general and best avoided in pregnancy to protect the baby. These include heavy contact sports, horseback riding that may result in a fall, skydiving, gymnastics, scuba diving and skiing.
You should also avoid activities at high altitude (unless you already live there!) as well as Hot Yoga and related activities due to the risk of overheating.
Extra care needs to be taken with abdominal workouts. As your baby grows it pushes aside your ab muscles and certain exercises can push them even further apart. This can cause or exacerbate postpartum diastasis recti.
Do not do crunches, sit-ups, planks or any exercise where you cannot hold a tight abdominal contraction ('suck it in') while you work out.
Take it easy! You can get a good workout, but avoid pushing yourself to breathlessness or exhaustion.  
Remember, exercise in pregnancy can help ease a number of pregnancy-related discomforts and ailments as well as help regulate your mood. It also has the added bonus of helping to better prepare you for the intensity of labor!  If your healthcare provider gives you the green light to exercise in pregnancy, get moving!
Disclaimer: Pregnancy by Design's information is not a substitute for professional medical advice or treatment.  Always ask your health care provider about any concerns you may have.
Cited Research:
CDC (2015). Healthy Pregnant or Postpartum Women.  Retrieved from https://www.cdc.gov/physicalactivity/basics/pregnancy/index.htm.
Free Video Guide on Creating Your Birth Plan!
The Complete Guide to Writing Your Birth Plan is a step by step walk-through of the most important aspects of creating an effective birth plan. The guide covers everything you need to know from interviewing a provider, comfort measures and additional  1-page birth  plan to talk over with your provider. Get free access today!