Many women these days are writing birth plans, to try to ensure they have a good experience, but unfortunately many birth plans fail. Birth plans seem like a great way to communicate wishes to the medical team. Most women put a lot of effort into writing a birth plan, in hope that their team will read and honor their plan during labor. Yet there is a huge disconnect between the number of women writing birth plans, and the high number of women who feel disappointed about their births. Nearly 1 in 3 women report experiencing trauma during their birth! Obviously, birth plans are not helping women get the births they desire.

Women get really frustrated by this disconnect. They write a birth plan and have all the optimism in the world about their birth – but then end up feeling like their birth plan was ignored. There are a few reasons why this happens. Much of the responsibility lies with providers who don't do a good job of honoring women's wishes. Why does this happen? Let's take a look at some reasons why birth plans fail, and explore some possible solutions. If want to learn more about what a birth plan is you can read more about "What is a Birth Plan".
Why Do Birth Plans Fail? Provider and Place vs. Birth Plan
A woman can write a great birth plan, based on her research and her wishes for labor. But then she might carry that piece of paper into a place that isn't set up for that birth plan to succeed, with a provider who doesn't normally do the things on her birth plan.
If your birth provider or your birth place usually does birth a different way from what you have written on their birth plan, then it's kind of like walking into a burger joint and ordering a cheese soufflé. The chef might never have made one, or even seen one, in his training. You're not likely to get a good one, even if the chef is willing to try to make one.
Unfortunately, it's like that with many obstetricians and normal birth. They may not have attended many, if any, natural births during their medical and surgical rotations. Your OB might say that they support natural, physiologic birth (or VBAC). However, it isn't realistic to expect success if they aren't experienced at the skills and tools needed to have one. You really need to be thinking about where you are taking that birth plan, and who is going to be reading it – your provider and the rest of your birth team. Your choices for birth care should all be rowing in the same direction as your birth plan.
The solution to this problem is to research your options thoroughly, and select a Provider and a Place that truly support the kind of birth you desire. Women need to know that when they sign on to work with a certain provider, or give birth in a certain place, they are saying, "Please treat me like you treat most of your patients." Their usual way of doing things should align with your values about birth.
The birth statistics of that provider and place should line up with your wishes as well. Look at their C-section rate, especially, to find out what your odds will be of having a c-section rate yourself. Would you rather have a 1 in 8 chance of having a c-section (12.5% c-section rate) or a 1 in 3 chance of having a c-section (33% c-section rate)?
Choose your Provider and Place for birth accordingly. Set out on the path with a place and provider that normally deliver what you're really after on a regular basis. If you are planning a natural birth, it's a better bet to start with a Provider and Place that usually support natural birth. You can always be referred to an OB or hospital for specialized care if needed.
You are much less likely to have a natural birth if you try to work from the other direction, seeking birth care with an OB and/or hospital that does not routinely see natural birth. The odds are high that your care will default to your Provider and Place's "normal" way of doing birth – offering interventions, breaking your water, suggesting medications, and keeping labor ticking along a preferred timeline.
This is actually why our birth course is called "Beyond the Birth Plan", because a woman's chances of having a better birth center around so much more than just the plan that she writes. We give evidence-based education to women on what your options are regarding the Place and Provider for your birth. You deserve to know what the research says about how to make that choice.
Why Do Birth Plans Fail? The Birth Plan Itself
There can also be problems with the birth plan itself that decrease the odds of it being followed. There might be issues with the way it's written or the amount of information the woman has tried to fit onto it.
1. The birth plan might be too long. Women are sometimes inclined to research everything and try to fit it all into their birth plan. I've seen birth plans written by doula clients that were 6-7 pages long and tried to capture every preference they had about their birth and postpartum care. That's too much for a provider and a labor nurse to possibly read and digest let alone follow. A too-long birth plan is not likely to be followed.
2. On the other hand, women sometimes write a birth plan without having all of the information that they need. So it ends up being too short or kind of uninformed. The wishes written in the birth plan might not be possible. A birth plan written without thorough birth knowledge is not likely to succeed, either.
3. The birth plan might be too rigid. Women sometimes write a birth plan like they are ordering a sandwich. They might feel like they have to be really clear and really firm in order to have the birth they want. They use language like "we want" and "we don't want". And when it gets too directive or too rigid, then again the birth team gets turned off to following that birth plan. Or, the birth plan might be too rigid to account for possible twists and turns that labor might take. A rigid birth plan might get "left in the dust" as labor changes, or the birth team might be turned off to following it.
How to Write a Birth Plan
At Pregnancy By Design, we have a model of writing a birth plan that helps women avoid these common pitfalls. We agree that it's important for women to think through birth planning comprehensively, but still have a readable short birth plan for their birth team to use. We split the birth plan into two components: a longer Labor Action Plan for yourself, and a sleek, one-page birth plan for your team.
Our Complete Guide to Writing a Birth Plan gives you a full length Labor Action Plan to help you from early labor, through active labor, and delivery. It has you think through all of these areas of birth, including person (you!), place, provider, and preparation. If you've taken the Birth Profiler, you plug those scores right into it, and you look at the big picture of getting ready for your birth. It helps you brainstorm comfort measures and research options for your Provider and Place. The Labor Action Plan includes everything you need to consider!
The Complete Guide then helps women distill their wishes into a one-page birth plan. The birth plan introduces you, making you a real person to your birth team. Then, the plan shares the top priorities for birth that you want your birth team to know during labor, delivery, and postpartum. You get the best of both worlds: comprehensive planning, and a bite-size plan your team will have an easy time following. The best part is how personalized your plan will be! Get help with a birth plan here. 
A Word on Doulas
As we talk about taking a personalized approach to labor preparation, the biggest goal is to help women make birth choices that all work together in the same direction. Some people take the approach that they can choose a highly medical place and provider, and if they hire a doula that will take care of things. The doula is like their insurance policy to help them have a natural birth despite other factors working against them. If you want to learn more about doulas check our article on "What is a doula"?
Doulas do bring a lot of value to any birth. Research shows that doulas help decrease the use of medical interventions, including pain medications and c-section. Doulas also help women feel much more satisfied with their births.  But a doula is not a magic wand. Don't get us wrong – doulas do work a lot of magic for women and their partners! But a doula can't overcome the system if it's working against you.
As a doula, I can't tell you how many doulas I have talked to who feel really frustrated about how limited we feel in certain places and with certain providers. Sometimes it can feel like a tug of war between your doula advocating for your birth plan, and your provider suggesting a different course of action at every step of the way. You deserve to get the most out of your investment in your doula's services! If you're considering a doula, choose a birth Place that truly welcomes doulas, and a Provider who will work in harmony with your doula so that your doula can do the best possible job for you. Choosing between ob or midwife, or hospital or birth center are important birth choices. 
The Four P's to a Better Birth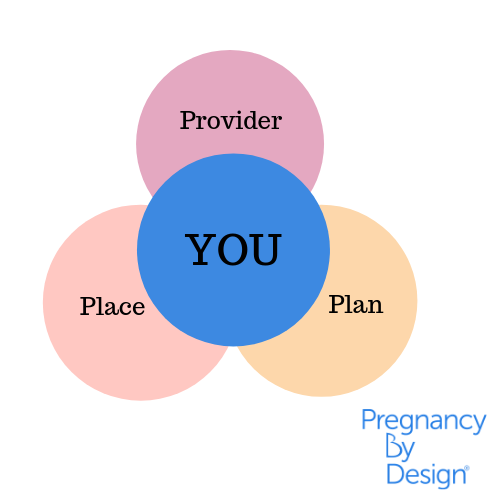 All aspects of your birth preparation should work together toward the birth you desire. It's impossible to guarantee a specific birth outcome; that's true. Labor is different for every mother and baby. But the bottom line is that you deserve birth care that centers around your needs and decisions. By thinking of labor preparation in terms of "The Four P's", you have the best chance of 1) having the birth you are hoping for; and 2) receiving the support and respect you deserve, even if labor takes a different turn.
You, the Person giving birth, are at the center of your birth planning. Your choice of birth Provider and birth Place should take your personality, beliefs, and birth preferences into consideration. When all aspects of your birth preparation are working in the same direction, the time and energy that you put into writing your birth plan are much more likely to pay off!
If you'd like to learn more about The Four P's to a Better Birth, check out our Complete Guide to Writing a Birth Plan, and consider taking the Birth Profile Assessment to learn more about the personal factors that could affect your birth choices. 
Disclaimer: Pregnancy by Design's information is not a substitute for professional medical advice or treatment. Always ask your healthcare provider about any health concerns you may have.  
Free Video Guide on Creating Your Birth Plan!
The Complete Guide to Writing Your Birth Plan is a step by step walk-through of the most important aspects of creating an effective birth plan. The guide covers everything you need to know from interviewing a provider, comfort measures and additional  1-page birth  plan to talk over with your provider. Get free access today!