A Groundbreaking Guide to Creating a Birth Plan!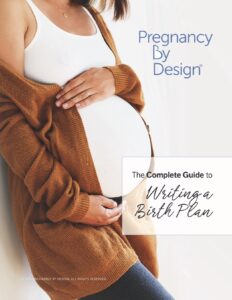 The Complete Guide to Writing Your Birth Plan offers step by step videos, with a detailed walk-through of the most important aspects of creating an effective birth plan. The guide covers everything you need to know from interviewing a birth provider to choosing a birth setting, writing a labor action plan and of course a 1-page print ready birth plan template to talk over with your birth team.
The Complete Guide is jam packed with helpful tips to help you plan a more fulfilling and empowered birth experience. Gain confidence and know your birth choices and options for you and your new baby!
You'll receive a printable PDF, and access to Dr. Elizabeth's video walk-through.  So be sure to get it today!
A Printable PDF Birth Plan Template for Your Birth Team!
I have seen many birth plans, and most do not cover all the necessary aspects of communicating a women's preferences and desires during childbirth OR try to fit too much detail and it gets overwhelming…

– Dr. Elizabeth Pearce, PsyD, Doula, Childbirth Educator and creator of the The Complete Guide to Writing a Birth Plan.
This guide is so easy to follow and, unlike other birth plans, it lays out a step-by-step approach to your birth options and birth preferences, guiding you through exercises that help you understand what YOU really want as you bring your baby into the world. The guide covers topics like pain relief for labor pain, labor and delivery options, comfort measures, birth stools, cutting the cord and much more!
Pregnant women that use this guide are often shocked by how much they learn about what happens during childbirth. Many women change their previously written plans after learning about their personal strengths, available options, tools and techniques taught in this guide.
Get Access to the Complete Guide
Birth Plan Topics & Extras
What Options Do I Have?
Where you choose to have your baby changes what options you have. The guide gives a brief description of Birth Centers, Hospitals and even birth at home! This Complete Guide helps uncover what options that you have at different places of birth.
Questions to Ask Your Provider 
Unsure of what questions to ask your OB or Midwife? Well, this guide will give you all the questions you need to be asking!
Learn About Yourself
Getting your mind around how you will experience labor and figuring out what you want your birth to be like may be tricky. But we will help you start thinking about who you are, your strengths and what you believe about childbirth and motherhood. You will get a glimpse of how your beliefs and personality affect your childbirth experience.
Be Prepared With A Personal Action Plan
The Complete Guide includes a Personal Action Plan which is your "Cheat Sheet" for labor.  It includes ALL the pertinent information and reminders you will want when you go into early labor.  The labor "cheat sheet" is just for you and will help keep you grounded and ready to focus on your labor!
1 Page Printable Birth Plan for Your Provider
Our Complete Guide includes a 1 Page Ready-to-Use Birth Plan template pdf that you can adapt to your preferences or you can simply use as it is!  This is the plan you will give to your provider and other members of your birth team. You'll have your printed pdf birth plan template ready to take to your next prenatal appointment!
Get The Birth Plan Mini Course and Birth Plan Templates for Free Below!