Foods to Eat During Pregnancy
You are what you eat. When you're carrying a baby, your baby is eating what you eat as well. Here are some pregnancy nutrition tips to help you with what to eat when pregnant so you can have a healthy, happy pregnancy and delivery.
Note: Though the recommendations here are generally accepted as a very healthy way of eating for anyone, bodies vary. If you have a medical condition (such as gestational diabetes) consult your health care provider before radically changing your diet.
The basis of any healthy pregnancy diet will be eating primarily whole foods.
What Exactly are Whole Foods?
Whole foods are nutrient dense. Your body is undergoing one of the more stressful things it will do–making a baby. Your resources have to be carefully split between you and the baby.
The more nutrients you eat, the more nutrients your body has to handle the task of keeping both of you healthy and growing optimally. Many pregnancy complaints or complications can be reduced or avoided through adequate nutrition.
Whole foods are minimally processed. In general, the less processing a food goes through before it gets to your plate, the more nutrients are available to your body. The closer to nature a food is, the more use your natural body can get out of it.
Whole foods minimize your exposure to added chemicals, preservatives and other additives.
Whole foods are much lower in (or free from) many of the additives that stress a body. We know that pesticides consumed by the mother end up in the the infant's bloodstream.
How Do I Know if it's a "Whole Food" or Not?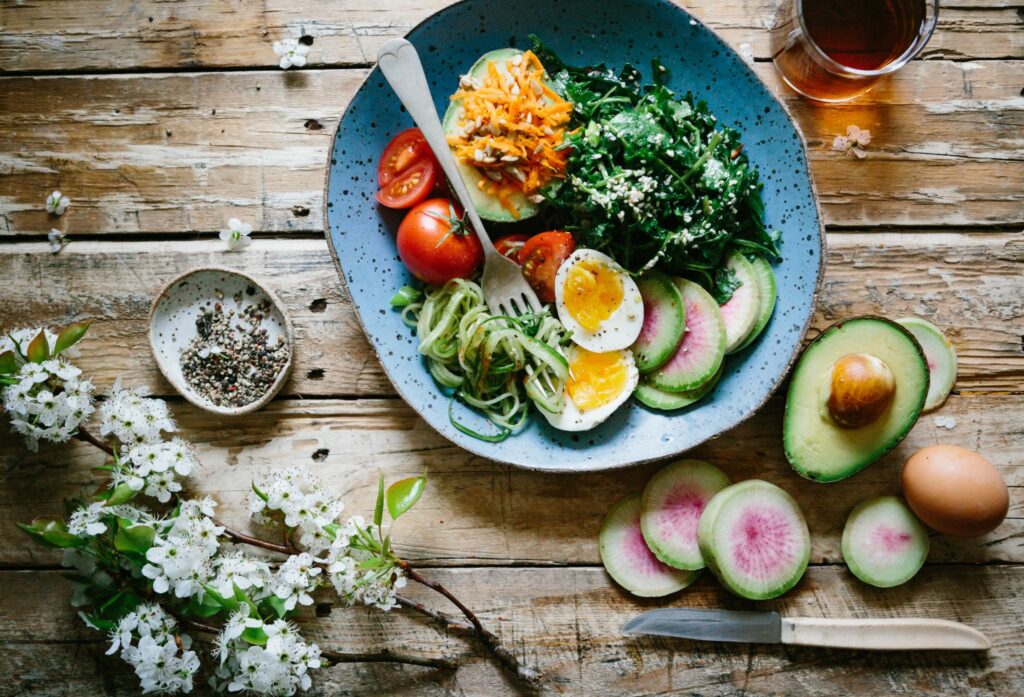 Think about how this food came to be. Whole foods are as close to how they grew as possible.
An apple is a whole food because it grew on a tree that way. A steak is a whole food because it grew on a cow that way. Milk is a whole food because the cow made it (pretty much) that way.
You can also think about the ingredients. Can you look at the food and name all the ingredients in it? Beans are beans. With a salad, you can look at everything in there and say what it is–until you come to the dressing. The dressing can be a whole food, too, but not if it's bottled with lots of additives or contains foods that aren't whole themselves.
If you know exactly how this food was produced and can name it's one or few ingredients, it's probably a whole food.
If it comes from the perimeter of the grocery store–the meat, produce, or refrigerated section–it's more likely to be a whole food.
Does it Have to be Organic?
No, but it's a good idea. The fewer pesticides your body has to process, the less stress you'll be causing it. Babies and mothers who eat conventionally-farmed food are born healthy every day. Most people can't afford organic food.
If you're going to buy some organic food, try to buy organic foods that consistently contain the most pesticide residue when they get to you. Peaches, grapes, and apples typically have lots of chemicals in the fruit when you buy them. Bananas, kiwi, pineapples, avocados, and honeydew melon by contrast, don't carry much pesticide and are considered safer to eat non-organic. You can visit EWG's site to see the full list of the Dirty 10 and the Clean 15.
What Should I Eat?
You should eat food that makes you feel good–not just your mouth and mind, but your body. Try to pay attention to what your body wants.
If you're used to eating sugar throughout the day and in quantity, it may be hard to tell what your body really wants. Try having a piece of fresh fruit; it may help to satisfy your sugar craving. Eating well in pregnancy not only helps you feel good but also helps with healthy weight gain.
Eat protein
Protein is especially important during pregnancy because it's what is building your growing baby. You need between 75-100 grams per day–more than when you're not pregnant.
Your body uses the protein you eat to build the baby's (and your own) muscles and tissue. Your body also needs protein to enact a host of metabolic and physiological processes involving hormones, enzymes, the immune system, and more. Protein stabilizes blood sugar and mood and may even help keep morning sickness at bay.
Eat protein throughout the day because it cannot be stored and is needed all day long.
Sources of Protein include:
Lean beef
Pork
Fish
Poultry (chicken, turkey)
Eggs
Milk, cheese, and other dairy products
Nuts and seeds (tip: buy a container of nuts and keep in your car, your desk at work etc.)
Beans and peas
If you are a vegan or vegetarian, you can get your protein from nuts, seeds, nut butters (peanut butter, almond butter, cashew butter), beans, peas, and soy products such as tofu.
If you are vegetarian and include dairy products in your diet, you can get your daily needed protein from milk and eggs as well.
Eat an Array of Fruits and Vegetables
Vegetables contain many of the nutrients needed to stay healthy. The general recommendation is to eat a rainbow of fruits and vegetables–many colors. Different colored plants have different vitamins and minerals. If you eat only carrots, sweet potatoes, oranges and cantaloupe, you're only getting one nutritional profile–lots of vitamin C.
Be sure to include a bunch of dark leafy green vegetables. Have a salad at least once a day, add kale, spinach or another leafy vegetable to a smoothie, eat broccoli regularly, etc. Find a way to include leafy greens (shredded iceberg lettuce on your burger doesn't count!) in more meals and snacks.
Eat Healthy Fats
Most of us eat plenty of fat. The high quality, nutritional fats are harder to come by.
All the processed vegetable oils we eat are not good for the body. Good, pure oils and fats are. Olive oil, coconut and coconut oil, butter, avocado, nuts, seeds, and ghee are all examples of good fats.
Try to get Omega-3 fatty acids as well, which help with the baby's brain development and moderate your anxiety and mood. You can easily get these from fish, flax, or a supplement.
Eat Calcium
Foods that contain calcium will help strengthen your bones and those of your baby.
Sources of Calcium Include:
Fortified orange juice
Dairy
Salmon
Spinach
Eat Folic Acid/Folate
Getting adequate folic acid or folate is important to avoid birth defects of the brain and spine called neural tube defects (NTDs). You can also get this nutrient from:
Spinach
Beans
Asparagus
Liver
Eat Iron
In the second half of your pregnancy, your body will be making more red blood cells to meet the increased demand necessary for the development of your baby. Red blood cells rely on iron. Your body isn't able to make iron and must be absorbed from the foods that you eat.
Getting your iron levels up will help prevent anemia and its complications. Red meat, beans, and spinach are all good sources of iron.
Drink Plenty of Water
Drink about half your body weight in ounces. That means that if you weigh 150lbs right now, you should have 75 oz of water each day. You can get some of this from soup, smoothies, tea, and vegetable juices. Try to avoid super sugary drinks such as sweetened smoothies and soda.
Eat plenty of those foods and then fill in your diet with other other foods you enjoy!
What Foods Should I Avoid?
Many providers recommend that pregnant women avoid foods that may contain harmful bacteria. These include certain dairy products such as soft serve ice cream, soft cheeses (like brie, blue cheese, camembert, feta cheese, etc.).
You will also want to avoid deli meats, and raw or under-cooked meat, raw eggs and raw seafood (sushi). Be careful when eating hot dogs or deli meats; they should be properly heated to the point where they are steaming (160 degrees F.) These bacteria can make anyone sick, but while pregnant the risks involved with food-borne illnesses are compounded.
It is also a good idea to be careful in choosing which fish you eat in order to avoid excess mercury exposure. Some fish, such as swordfish, contain high levels of mercury.
Alcohol, of course, should be avoided, especially in the first trimester. No amount of alcohol is considered safe. Studies show that heavy alcohol consumption increases the risk of low birth weight and preterm birth.
You can drink coffee when pregnant. One cup a day is considered below the limit of safety for caffeine levels in pregnancy.
If you find eating a whole foods diet difficult, you're not alone. Most readily available foods are not whole or nutritionally dense. Try to avoid sugars and white processed foods. Flours and sugars and other 'empty calorie' foods stave off hunger, but they don't nourish you or your baby.
How Will Eating Well Help Me?
Research has found that women who eat whole foods with plenty of protein are at much less risk of pregnancy complications such as pre-eclampsia and gestational diabetes. In addition, there are a host of pregnancy complaints that can be resolved with eating nutritionally dense food.
Headaches and constipation can be reduced or eliminated with plenty of water, good fiber, and fewer sugary, empty calories.
Anxiety, joint pain, and leg cramps can also fade away with enough magnesium, omega-3s, and a whole foods diet.
What Vitamins and Supplements are Good for Pregnancy?
It can be difficult to get all the nutrients we need from food, especially with the increased demands of pregnancy. Supplements are a good way to fill some of those gaps. You might consider the following: probiotics, vitamin D (especially if you don't get much outside time), magnesium, omega-3 (especially if you don't eat seafood), a prenatal vitamin, and a green powder if eating leaves is hard for you.
Eat the best, most wholesome food you can stomach and afford. This is a great time to start good habits for yourself. If you're ever going to buy and eat organic or more wholesome food, now is a good time.
Where Can I get Help?
Check out one of the many books on pregnancy nutrition, such as Real Food for Pregnancy by nutritionist and researcher Lily Nichols.
Ask your midwife or doctor for a pep talk and advice on eating during pregnancy.
Many state and local communities have programs to help pregnant families purchase healthy food. Look into WIC and other resources in your community.
Disclaimer: Pregnancy by Design's information is not a substitute for professional medical advice or treatment. Always ask your health care provider about any concerns you may have.
Cited Resources:
Lily Nichols(2018). Real food for Pregnancy.
USDA. (2015). Why Take a Prenatal Supplement?
FDA (2018). Food Safety for Moms-to-Be.
Greenberg JA, Bell SJ. Multivitamin Supplementation During Pregnancy: Emphasis on Folic Acid and l-Methylfolate. Rev Obstet Gynecol. 2011;4(3-4):126-7.
Mayo Clinic (2017). Pregnancy Diet: Focus on these Essential Nutrients.
Miyake, Y., Tanaka, K., Okubo, H. et al. Alcohol consumption during pregnancy and birth outcomes: the Kyushu Okinawa Maternal and Child Health Study. BMC Pregnancy Childbirth 14, 79 (2014).
Free Video Guide on Creating Your Birth Plan!
The Complete Guide to Writing Your Birth Plan is a step by step walk-through of the most important aspects of creating an effective birth plan. The guide covers everything you need to know from interviewing a provider, comfort measures and additional 1-page birth plan to talk over with your provider. Get free access today!